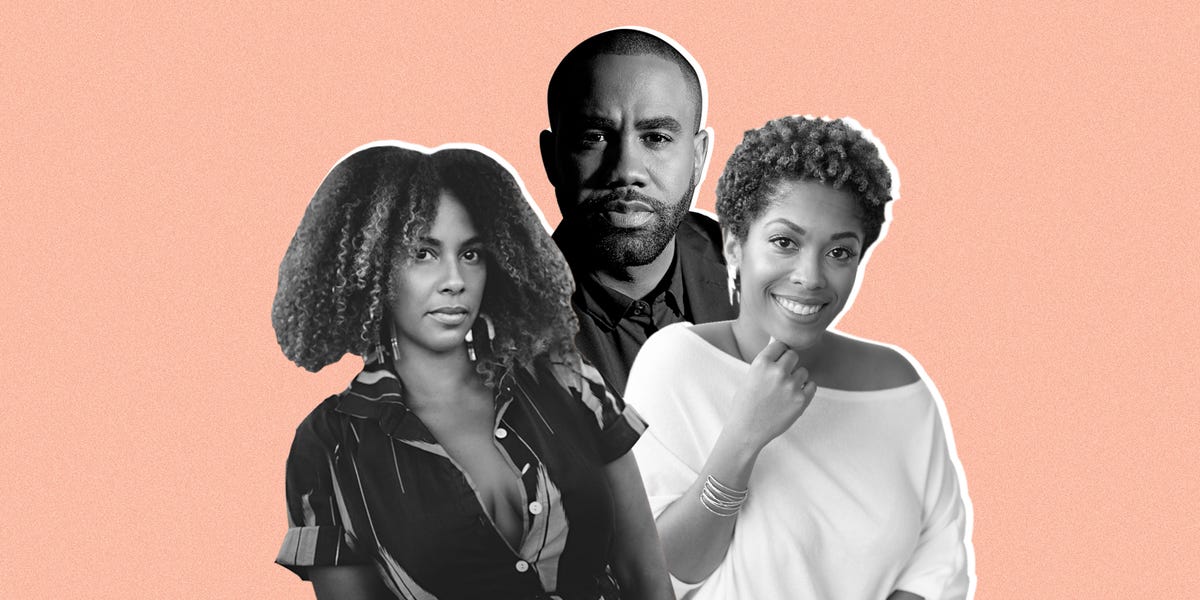 Getting any business off the ground is no small feat—recent data shows that nearly one in five U.S. businesses fail within the first year. When you factor in the additional barriers that exist specifically for Black businesses, including racial bias and lack of access to generational wealth, it's no surprise that an $11 trillion racial wealth gap exists.
In response to that stat, SheaMoisture created The Next Black Millionaire Fund, a partnership with The New Voices Foundation that aims to propel and support the next wave of entrepreneurs of color in beauty and beyond. This year's three winners are LaToya Stirrup of Kazmaleje, Dorian Morris of Undefined Beauty, and Neil Hudson of Scotch Boyz.
In addition to giving the winners a seat at the table, the initiative equips them with a $100,000 grant, business development resources, retail distribution support, and mentorship from the SheaMoisture team. 
Meet the Brands
Alongside her three sisters, LaToya Stirrup founded Kazmaleje (pronounced "cosmology"), a hair tool and accessory line that reimagines wash day for textured hair.
"We are creating solutions to address the pain points of textured hair, i.e. excess breakage, long wash days, and scalp issues," says Stirrup. "We want to transform the wash day experience into more of a self-care ritual instead of something to dread. It doesn't have to be a chore."
Dorian Morris is also making positive changes to the personal care space by focusing on the needs of diverse consumers with Undefined Beauty, her skincare and wellness brand. "My mission is to democratize beauty," she says. "I want to undefine what beauty and wellness looks like, because historically she had one face, and I believe we all deserve access to high-quality products."
Bringing the heat to the food industry is Neil Hudson of Scotch Boyz, a pepper sauce brand born in Jamaica. He describes the brand as "the best sauces and flavors from the Caribbean, delivered to your door," and says that he wasn't surprised to be selected as a finalist, because nothing is comparable to the Scotch Boyz flavor profile.
Looking Forward
Growth is on the mind of all three founders, especially since $100K in capital can help build out much-needed infrastructure.
In the next five years, Hudson wants to not only increase revenue but also build a platform for his Jamaican farming partners. "[Our business] is a direct way for the small farmers to get their produce out in the global market," he explains. "[With this funding] we're going to invest in the farmers to help them modernize techniques like irrigation, and rethink sustainable business practices."
As a one-woman brand, Morris is looking forward to bringing in supporting players so she can shift gears toward increasing brand awareness and driving demand with her current retail partners. "Having more capital [will allow me] to invest in, as well as build out, teams," she says.
While Stirrup notes that money is always needed in business, she's really soaking up the priceless resources that come with being one of the Next Black Millionaires. "The access to the team at SheaMoisture, a brand that has dominated the space for so long and has been acquired by Unilever…that's the road map," she says. "It's like, 'How do we at Kazmaleje do the same?'"
Similarly, Hudson is excited about learning from mentors like Richelieu Dennis, founder of Sundial Brands and New Voices Fund & Foundation, and Cara Sabin, CEO of Sundial Brands and Beauty & Wellbeing North America, Unilever, who are, he says, "not only opening the door for us but actually holding our hand and walking us through this journey."

And while the fund may only have three winners, the entrepreneurs consider themselves part of a bigger community. "I am so proud to be a part of this family on the receiving end of these benefits, but I also do a lot of paying it forward and sharing resources," says Morris. "I try to be as informationally generous as possible because there's space for all of us to win."